The Blue Jackets Winter Park is back
Posted on January 31, 2017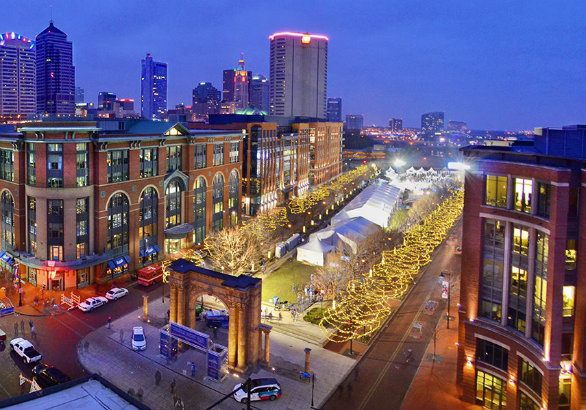 The Blue Jackets Winter Park is returning for 2017! From February 3 to February 26, McFerson Commons will house a NHL-sized ice skating rink, children's slide and host community events.
Community Outdoor Ice Rink
Join your fellow skate enthusiasts in the rink for a $5 fee (including skate rental). Prefer to watch the skating instead? The rink is equipped with bleachers and a heated tent for spectators. Private skating sessions are also available upon request. Open skate times are listed here.
Pro Tip: Skate passes at Winter Park are cash only. Nationwide Arena box office accepts cash and credit for skate passes.
Community Events
To kick off the winter park, the Blue Jackets are scheduled to hold a public team practice on Friday, February 10 at 12:00 p.m. at the outdoor rink. The practice will be free and open to the public.
The 5th Line 5K will take place on Sunday, February 5 at 10:00 a.m. The race is unfortunately sold out, but that doesn't mean you can't cheer on the runners and walkers! The race starts and ends at Nationwide Arena looping around the river, offering stunning views of the Scioto Mile. Head to the 5th Line 5K website for more information.
Mad River Mountain Kids' Slide
A kid-friendly 6' tall 2-lane snow slide is located on the north end of the park. The slide is open Monday – Friday from 4:30 p.m. – 8:30 p.m. and Saturday & Sunday from 11:00 a.m. – 9:00 p.m.

Categories
Featured Events |
Tags